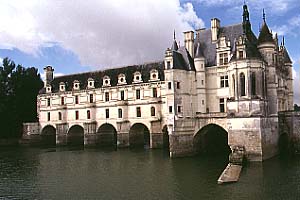 Chateaux & Mysteries of the Loire Valley, France!
Loire Valley & Chartres Cathedral
March 7 - 17, 2006
Journey with us to the magnficent Loire Valley in France (south of Paris) including Chartres Cathedral (just north). Visit Cathedrals, Chateaux, ancient sites, standing stones, dolmen, Troglodyte caves, villages, museums and sites of great mystery! Also explore the Apollo/Athena ley lines as they run through the area.
Chinon - Chateau

Saumur

Eglise St-Pierre
Place St-Pierre - with half timbered buildings

Chenonceaux

Chateau straddling the River Cher - formal gardens, wooded grounds, pur Renaissance buildings, chapelle & tapestries

The Solange

Romorantin-Lanthenny with 17-19th c. buildings & medieval quarter
Flat heath land, marshes, forest and lakes

Chambord - Chateau -The largest of the Loire château and considered one of the most extraordinary structures in Europe, Chambord sits in the middle of a 13,000-acre royal game forest.

Vendome - scenic town built over a group of islands with bridges, watergates & old stone buildings; Abbaye de la Trinite

Tours - St-Gatien Cathedral & Place Plumereau (medieval houses and square with half timbered 15th century buildings

Fontevraud Abbey - largest & most extraordinary abbey of its kind in France

Gennes village

Troglodyte Caves - caves cut into the limestone cliffs and used as homes, chapels, dovecotes, farms, &winecellars

L'Helice Terrestre - galleries carved into the limestone by sculptor Jacques Warminsky - "In 1987, Warminski purchased an entire French troglodytic village that had been deserted by its inhabitants. The village has now been transformed into his Terrestrial Helix. Beneath the temple-like Amphi-Sculpture of swirling sculptural forms, the main caves, including over a kilometre of his own excavation, are approached by a spiralling slope leading to a dark passage that links a series of galleries. At the centre of the underground network is a cavity dominated by a large smooth sphere. The carved walls of the tunnels and caves match the convex forms created in the external landscape. Visitors explore the inside of the sculptures that they see on the surface and thus experience the unity of inner and outer worlds."

Chartres Cathedral - on a Druidic Goddess Site - incredible high energy site filled with mystery

"Our Lady Underground" statue - Black Madonna
Knights Templar involvement in the Cathedral
Labyrinth in floor, stained glass windows, ley lines, massive crypt & well

Winetasting- "VAL DE LOIRE" begins to the West with the muscadets and gros-plants in the region of Nantes and ends in the East, up river passing through the coast of Auvergne and St-Pourçain. To the north, you will find Jasnière and Orléanais wines and to the South fiefs vendéens, Châteaumeillant and Haut-Poitou wines.

Wonderful cuisine

Special Teachings in:

History of the area
The Sacred Michael & Athena Energy Leylines
History's Mysteries
Cost: Starting at $1895.00

For more detailed brochure, email Earth Mysteries & Sacred Site Tours please include your postal mailing address in your request for information
Earth Mysteries & Sacred Site Tours & Well Within
Phone 304-238-6612 Pacific Time, US
Visitors since August 30, 2002
---
If you click on any of these sites you will be leaving Well Within - Please ADD A BOOKMARK now
---
| France Tours | France Tours | France Tours | France Tours | France Tours | | France Tours | France Tours | France Tours | France Tours | France Tours | | France Tours | France Tours | France Tours | France Tours | France Tours | | France Tours | France Tours | France Tours | France Tours | France Tours | | France Tours | France Tours | France Tours | France Tours | France Tours | | Cathars, Templars, Celts, Celtic, Goddess, Black Madonna | | Cathars, Templars, Celts, Celtic, Goddess, Black Madonna | | Cathars, Templars, Celts, Celtic, Goddess, Black Madonna | | Cathars, Templars, Celts, Celtic, Goddess, Black Madonna | | Cathars, Templars, Celts, Celtic, Goddess, Black Madonna | | Goddess Tours | Goddess Tours | Goddess Tours | Goddess Tours | | Goddess Tours | Goddess Tours | Goddess Tours | Goddess Tours | | Goddess Tours | Goddess Tours | Goddess Tours | Goddess Tours | | Goddess Tours | Goddess Tours | Goddess Tours | Goddess Tours | | Goddess Tours | Goddess Tours | Goddess Tours | Goddess Tours | | Celtic Tours | Celtic Tours | Celtic Tours | Celtic Tours | Celtic Tours | | Celtic Tours | Celtic Tours | Celtic Tours | Celtic Tours | Celtic Tours | | Celtic Tours | Celtic Tours | Celtic Tours | Celtic Tours | Celtic Tours | | Celtic Tours | Celtic Tours | Celtic Tours | Celtic Tours | Celtic Tours | | Celtic Tours | Celtic Tours | Celtic Tours | Celtic Tours | Celtic Tours | | Chartres | Paris | Chartres | Paris | Chartres | Paris | Chartres | Paris | Chartres | Paris | Chartres | Paris | Chartres | Paris | Chartres | Paris | Chartres | Paris | Chartres | Paris | Chartres | Paris | Chartres | Paris | Chartres | Paris | Chartres | Paris | Chartres | Paris | Chartres | Paris | Chartres | Paris | Chartres | Paris | Chartres | Paris | Chartres | Paris | Chartres | Paris | Brittany | Brittany | Brittany | Brittany | Brittany | Brittany | Brittany | Brittany | Brittany | Brittany | Brittany | Brittany | Brittany | Brittany | Brittany | Brittany | Brittany | Brittany | Brittany | Brittany | Brittany | Brittany | Brittany | Brittany | Brittany | Brittany | Brittany | Brittany | Brittany | Brittany | Brittany | Brittany | Brittany | Brittany | Brittany | Brittany | Brittany | Brittany | Brittany | Brittany | Brittany | Brittany | Carnac | Carnac | Carnac | Carnac | Carnac | Carnac | Carnac | Carnac | Carnac | Carnac | Carnac | Carnac | Carnac | Carnac | Carnac | Carnac | Carnac | Carnac | Carnac | Carnac | Carnac | Carnac | Carnac | Carnac | Carnac | Carnac | Carnac | Carnac | Carnac | Carnac