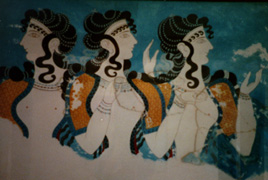 © "Minoan Fresco" by Sheri Nakken
Magical Crete & Santorini!
Minoans, Gods & Goddesses & Ancient Sites
Optional Extension for 4 nights to Delphi, Epidauros, Mycenae & Napflion
Crete & Santorini Portion - May 5 - 15, 2011 (email for dates)
Option of only participating in Crete portion & not Santorini - email about that
Optional extension to Delphi, Epidauros, Mycenae & Napflion, following above tour May 15 - 19, 2011 (4 nights)
Open to participants from any country
International Tours since 1988; Conferences & Retreats since 1982
We will explore the possibilities regarding the Minoan culture and the ancient sites - are these palaces and was this a goddess culture or are these ancient sites incredible funerary temples similar to those in Egypt?
Evidence will be explored regarding these theories
Crete
Magnificent mountainous Greek island famous for its Minoan ruins, palaces

Land of the Ancient Goddess

Magnificent Beaches, Mountains; Vistas and small mountain villages

Knossos - ancient palaces or funerary complexes???

Psychro Cave & other ancient sites

Incredible Heraklion Museum - famous snake 'goddess' statues & frescoes

Matala - lovely seaside village with its tiers of ancient caves and beautiful beach. There is a beautiful 300 metre half crescent shaped sandy beach which is protected on both sides with great cliffs forming a pretty little bay. In the 60's and the 70's Matala became renowned as hippies came from around the world to live in the caves carved out of the cliff sides of the bay. These famous Neolithic caves, are now undergoing archaeological research; more photos; and even more

Herb Teachings at Herb Gardens where we are staying (taught by Pepy Chatzimarkaki, the owner) - Within the area of 5000 sq.m., they have collected more than 20 species of endemic plants and herbs, that they grow with care. The area of NYMPHES thrives in thyme, oregano, myrtle, laurel, rosemary, lavender mint, dittany, basil, sage, laudanum, majorana, vervena and other medicinal herbs and fragrant shrubs that are grown next to and within the perimeter of the apartments. The trained eye will distinguish more than 500 species of wild plants and flowers in the area. Their scent infuses the air that travelers on foot or in a car will be able to enjoy with the help of even the mildest breeze.

Wonderful seafood & other Greek dishes - enjoy the Cretan Cuisine in Traditional Restaurants .

Nymphes Luxury Apartments Located upon an enchanting hill at Agia Pelagia, in an area of 5000m2 of unspoilt natural beauty, they limited development to just ten accommodations, a swimming pool, a salon, and gardens with fruit trees, grapes and many species of herbs. All accommodation faces the sea , offering a spectacular view of the blue Aegean Sea , from an altitude of 280 m. NYMPHES luxury apartments are a characteristic example of Cretan nature protection. Agia Pelagia is a modern resort, 20 km away from Heraklion airport, with crystal clear waters. It features taverns, bars, shops, supermarkets and a medical centre as well as bank, car hire companies and other private enterprises. The sandy beach is 3 km away from NYMPHES, and wins a blue flag every year, the sign of clean and crystal clear water.

Upon arrival at the apartments - A basket of fresh fruit and a bottle of Cretan wine, bottled water, a basket of bath supplies, slippers, bathrobes, towels for the swimming pool and a bouquet of flowers are placed in the room upon your arrival, with our compliments, as well as cards, envelopes, letter paper and many small facilities in the apartment. Laptop desk for PC users. Sun-beds and umbrellas around the swimming pool.

Special Teachings in:

History of the Goddess throughout cultures in the Near East & Mediterranean
Greek History
Ancient Sites & History's Mysteries
Herbs & Flowers of Greece
Optional homestudy course for those on the tour who may be nurses desiring nursing credit - Women as Healers: Past, Present & Future (30 contact hours) (tour open to all not only nurses)
Magnificent Greek island famous for its high white cliffs and volcano caldera filled with sea water

Ancient Minoan site of Akrotiri - destroyed by earthquake and volcano 4500 years ago! (if open)

Incredible villages with maze-like, white-washed maze-like streets and incredible colors

Beautiful village of Oia with great sunsets

Great seafood & other Greek dishes - souvlaki, greek salds, wines & more

Hotel Galini Wonderful little hotel on the lip of the sea-filled vocano caldera rim, 300m. higher than the sea-level. The Roussos family created the Hotel Galini 1 & 2 at Firostefani 25 years ago. With a strong emphasis on simple traditional decor, and passionate attention to details, they offer you Santorini island hospitality. Enjoy lovely breakfasts overlooking the caldera

Optional (extra) boat trips
Optional extension for 4 nights to Delphi & Epidauros, Mycenae & Napflion
Delphi - Visit the impressive ancient ruins of the Temples of Apollo & Athena in the mountains - (The favorite village of most of my groups). A magnificent site. Time for shopping in the village. Incredible vistas down over the valley and the sea

Harbor town of Napflion in the Peloponnese

Day trip to beautiful island of Hydra (optional at extra minimal cost, depending on boat schedule)

Mycenae - Visiting the ruins with palace & incredible chamber

Epidaurus - ancient & celebrated amphitheatre, home of Asclepius, healing god
Optional extra on your own in Athens - we can help with accommodations there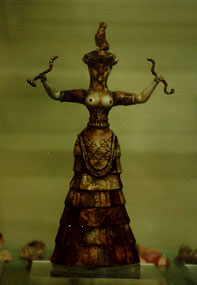 © "Snake Goddess from Crete" by Sheri Nakken ----->
Tentative Itinerary
Day 1 Arrive in Crete and transfer to lovely apartments high on the hill overlooking the seaport village and sea below. Time for rest and naps and recovery from jet lag. Dinner out this evening at wonderful restaurant with fresh fish and other selections including Greek specialties, in Agia Pelagia, near the beach. While here on Crete, we will be staying at Nymphes Luxury Apartments on a hilltop above Agia Pelagia, a small village on the sea. Pepy Chatzimarkaki is the lovely woman who is the owner of this beautiful, enchanting place. Our apartments have balconies or decks and lovely furnishings as well as a beautiful swimming pool on the grounds. Pepy also loves herbs and has gardens around the grounds and will be sharing her love and knowledge of herbs while we are staying there. She serves us lovely breakfasts while we are staying here.
Day 2 - Introductions and introductory information on Crete and its mysteries. We will start to explore the ancient goddess, the ancient sites, history and mythology of Crete.
Day 3 - Today we will explore some beaches and villages. Spend time in the lovely seaside village of Matala with its tiers of ancient caves and beautiful beach. There is a beautiful 300 metre half crescent shaped sandy beach which is protected on both sides with great cliffs forming a pretty little bay. In the 60's and the 70's Matala became renowned as hippies came from around the world to live in the caves carved out of the cliff sides of the bay. These famous Neolithic caves, are now undergoing archaeological research.
Day 4 - Today we will visit Knossos - ancient palace or funerary site? We will explore the variety of theories out there about its use. This afternoon travel a short distance to Heraklion and explore the city as well the Heraklion Museum which is truly incredible with its ancient Neolithic, Minoan, Mycenean & Classical remains & art - a mesmerizing place. Day 5 This morning, explore the herb
garden with Pepy and learn about the herbs growing there. We will pick and taste fruits, grapes, herbs, to dry and take with us, as well as prepare a lovely smelling tea from different spices, which we pick that morning from her garden. (all optional - nothing required - could have this time for free time if you like for swimming & sunbathing). During May the weather is perfect & the earth is full of wild flowers.
Day 6 - Travel to the intriguing Lassithi Plain surrounded by mountains and Psychro Cave - ancient sacred cave. Pilgrims dedicated many offerings, such as figurines of humans, gods, animals, double axes etc. The excavators and several scholars identify the cave as the famous "Diktaian Cave", where Zeus was born and brought up with the aid of Amaltheia and the Kouretes.
Day 7 - Travel by boat to beautiful Santorini - Overnight in Santorini for the next 3 nights here, staying in lovely accommodations overlooking the beautfiul Caldera. Santorini is known as one of the most beautiful islands in the world famous for its imposing landscape; the volcanic cliffs & the magnificent caldera with its impressionistic contrast of colours; the beautiful black sand beaches; the incredible white-washed houses, breathtaking sunsets, deep blue sea, & so much more. The light is magnificent here. The eruption of Santorini in ~ 1,650 B.C. was one of the largest in the last 10,000 years.
Day 8 Sightseeing around Santorini to Akroteri, (if open - has been closed for a few years due to construction) ancient Minoan Village excavated from under the volcano ash - destroyed in approximately 1500 BC after earthquake & volcano. Akroteri, a Minoan city on the south part of Thera, is being excavated. About 3-6 feet (1-2 m) of ash fell on the city which had a population of about 30,000. The residents appear to have been successfully evacuated prior to the eruption. No bodies have been found in the ash like those at Vesuvius. Time here for swimming; shopping; relaxing
Day 9 - Time to visit some beautiful beaches for sunbathing or swimming. Also we will explore the villages of Fira & Oia and time for shopping, sumptuous lunch and dinner. Also optional boat trip on your own (extra cost) in the caldera and to the volcano island in the middle.
Day 10. Flight to Athens this afternoon and continuing on with Optional Extension or flights home on. Overnight near airport for those going home on Day 11 OR continuing on their own. For those continuing on to Delphi & the Peloponnese, we will drive to Delphi for tonight and the morning of Day 11. Delphi is famous for her Oracle. About 100 miles NW of Athens, is the ancient site of the sanctuary of Delphi. The complex of buildings, which includes the Temple of Apollo near where the famous oracle sat. The sacred Corycian Cave, and the Castalian Spring, is nestled in the forested slopes & rocky crags on the south side of the sacred mountain. According to legend, the shrine was originally guarded by the shedragon Pytho. She was killed by Apollo who then took over the oracle. In antiquity, Delphi was regarded as the centre of the world. We will visit the Ancient Temples of Apollo & Athena, amphitheatre & gymnasium.
Day 11 - After the morning in Delphi, we will travel west & then south, over the Gulf of Corinth to the Peloponnese (island south of mainland of Greece) to Napflion area & stay nearby, on the beach in Tolo (since we will surely be missing the beach by now!) On the way, we will visiit Mycenae, written of by Homer, with its magnificent archaeological site (dating back to 16th century B.C.) containing tombs, palaces, aqueducts, and the famous Lions Gate. Myth from this area is of Agamemnon & Orestes. Overnight here for 3 nights
Day 12 Today there will be time on the beach or you have the option today of taking boat trips to other islands nearby (extra, on your own)
Day 13 - we will visit Napflion - a city of Venetian fortresses with an ancient harbor, harbor walk, restaurants, cafes and serenity
Day 14 - Today, leave this area to head back toward Athens. We will explore Epidaurus, on the way - the home of Asclepius, god of healing & famous for its incredible amphitheatre. It was the health spa and religious center of its time and maintained a bath, hotels & dwellings for the priest-physicians as well as a tholos building, temples, stoas, gymnasium, palaestra, stadium and a theater. The theater is one of the best preserved ancient structures in Greece & is now used for modern presentations of ancient Greek drama. The Asklepieia (athletic and dramatic festival) was held every 4 years. Epidauros is claimed as the birthplace of Asklepios & it was the most celebrated center for healing. Overnight near Athens airport for flights home in the morning, on Day 15, or continue on your own.
Costs: Main portion (Crete & Santorini - 9 nights) starting at $2595 USD - other currencies can be calculated) + all airfare extra
Deduct $650 if only partcipating in Crete portion and not Santorini
I can easily help you with your flights and good airfares as I am a travel agent
Single occupancy $500 USD extra
Cost includes accommodations, continental breakfast daily, admission to sites listed, transportation around Crete & Santorini via mini-buses and/or cars; and workshops. Flights not included
Optional Extension for extra 4 nights Delphi, Epidauros, Mycenae & Napflion, starting at $495
For more detailed brochure earthmysteriestours@gmail.com, wwithin@nccn.net please include your postal mailing address in your request for information
Earth Mysteries & Sacred Site Tours & Well Within
Phone 304-238-6612 Pacific Time, US
---
---